The Best Grill and Homemade Food
Perfect Pairing between Excellent Raw Material and Good Wines
In our Grill-Restaurant you can find the best raw material well seasoned always based on traditional recipes, and you can pair it with exquisite D.O.C. Rioja of the area providing a pleasant experience.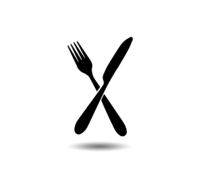 In addition to our Menu and our Special Menus, from Monday to Friday at noon(except holidays) , you can enjoy our delicious
MENU OF THE DAY for 13,00 € (I.V.A. Included) consisting of:
FIRST COURSE

SECOND COURSE

DESSERT

Includes Bread, House Wine and Water

---
---
Homemade Day Food Ration
Legume, Potato Stew or Vegetable Stew
Cuttlefish Grilled with Vine Wood
Salad Garnish

Suckling Lamb Chops Grilled with Vine Wood
Fries and Peppers Garnish
Yearling Big Chop Grilled with Vine Wood
Fries and Peppers Garnish According to Weight
Reserve your table now !
Hi everyone; ASADOR LOS NIETOS closes for vacations from January 7th 2020 until February 27th 2020 returning on February 28th, date on which we will be available again with the batteries charged. We want to thank everyone for their trust from the entire ASADOR LOS NIETOS team.
A big hug and see you around!
OPENING HOURS

From Monday to Friday : 13:00 - 16:00
Saturday : and Sunday: 13:00 - 16:30

*Asador Los Nietos will open for dinner, at least 12 people group, with Early Booking of at least, 1 day, from 9:00 p.m. to 10:45 p.m.*
Asador Los Nietos
Los Mesones Street Nº30, Briones, 26330
---